After a long time thinking about a new "all-in-one" lens I finally ordered my new Tamron 18-270mm at amazon.at. When the lens arrived I made some low light photos at our place and a quick photo-safari to Hellbrunn….
Until now I'm really happy with the lens and I uploaded some resized and resampled images (up to 2000px wide and 75%jpgs) to the gallery and you can download some untouched images (16mb) straight from my EOS 350d…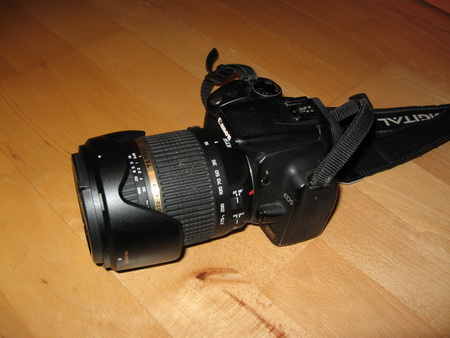 Travel mode of the Tamron 18-270 and the EOS 350d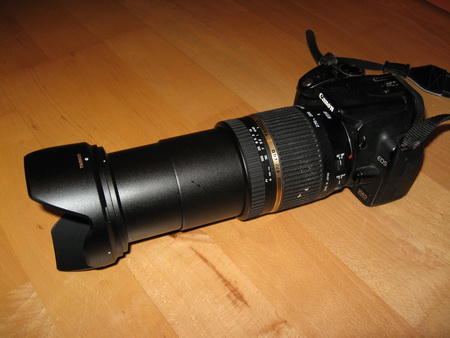 Full length (270mm) with attached lens hood
Well, the first thing I noticed after unpacking it was that the lens is really well build – no shaking or anything. The handling is really easy with the three options:
Image stabilisation on/off
Automatic focus on/off
and the Lock Lens button which holds the lens in the 18mm position (for transport – but I didn't need it until now …)
Besides the lens you also get a lens hood for outdoor shots which is attachted to the lens if you don't need it.
So, how does it work? Well – for my liking it's amazing. I know that it is not a fast (f2.0) lens but what do you expect… Depending on the zoom the smallest aperture is 3.5-6.3 but thanks to the image stabilisation it's no problem for me. Shooting without a tripod at 270mm with 1/20s is no problem for amateur use – the images won't be super-sharp but still very very good for personal prints, etc. For indoor photography the lens sometimes has some troubles to focus automatically, with bright light that was no problem at all.
So, until now I'm really happy. The lens is the perfect one-fits-all lens for me (and other amateurs/semipros). It's fast and combined with the stabilisation plus ISO settings you can really make low light photos and it's well build…