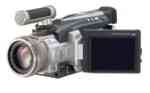 After a long time without a digital video camera accessible to myself, I have finally got my own camcorder. It took me quite a while to research the market and make a decision on what to buy. In the end I got a Sharp VL-AX1. The motivations for buying this camcorder range widely and I have a few plans already on what to do with the camera as well…

Following are some of the reasons I ended up with the Sharp:
My experience with MiniDV cameras basically set the format. I need a digital non proprietary digital format. That is MiniDV.
I want a long body camcorder allowing me to hold the camera in my hand without too much shake. This automatically removed all the upright models and the miniature type cameras.
Decent picture quality is
necessary, but a 3 CCD camera is beyond what I am willing to invest.
This disqualifies another chunk of cameras on the market.
I want still shots onto some sort
of memory card in a quality that allows me to put the photos on the
website. I don't need them to be print quality. This eliminated a
lot of the low end camera without stills to card features.
Since I want to do some nature
photography as well as take action footage in the surf a decent
optical zoom is a must. This proofed to be a killer argument. Most
cameras only come with a 10 times zoom, which I find pretty
ridiculous. Sure, you can put a tele filter on the front. But who
honestly changes around and takes them on and off. And even if, you
will not be able to use the whole range at once. Nor can you use
some parts of the range at all, since the lens will actually take up
part of the view. Yuck…
I dislike vendors trying to force
me to use their proprietary products, when there is a perfectly
usable generic or even standard solution available. This eliminated
all Sony camcorders, since they come with memory sticks only. Sony
has been very persistent with forcing their stuff onto us. Microsoft
is another vigilant worth mentioning.
I don't need any web cam or MPEG4 features or other snazzy
things that add to the price, but I will never use.
I had a really hard time finding much information about the
camcorder on the internet. There was more German than English
information available, but all indications I found were good.
With my new Sharp I have now access to a 23 times optical zoom.
The camera is very comfortable to hold and I can even takes stills on
a SDRAM card with up to 1152×768 resolution. Of course there is still
a lot to be discovered for me. I went through the manual, but with
the constant problem of only 24 hours a day I have not tried
everything yet. But that is part of the fun anyway;-)
Of course I had to get some accessories as well:
Since I am an outdoor enthusiast a
Pelicase Box
is essential for the camera. I will never forget when we went
canyoning and used to throw the camera down the drops into the pools
and then followed suit. Thats what you want. Of course you could
also use an ammunition box, but that would be much heavier.
I needed to get bigger battery set
and a bigger tripod in addition to my trusted minitripod
and an additional charger with a cable to charge off the cigarette lighter connection in a car
and a UV filter to protect the lens
and a few tapes of course.
My plans with the camera are many. I am thinking of getting some
sort of waterproof housing for sea kayaking, surfing and so on. I
also still need to get a FireWire card I can use as a replacement for
my AVmaster card. I will have to find a card that is supported by
Linux though. After all I am aiming to see how far I get with editing
a video in Linux. Supposedly it is all possible, although rather
hard. Oh well, I can take a challenge.
Another nice gizmo would be a portable card reader with a big hard
disc inside. If I shell out the money for something like that I
should also get a MP3 (Ogg) player and maybe even a sort of PDA. Not
that I have seem anything like this on the market yet. I guess I will
have to research a bit more and potentially wait. At the moment I am
quite busy anyway…
As you can see I got a new toy and I am busy playing with it. Check out some of the photos in the Australia`s Animal Kingdom gallery and stay tuned for some videos in the future.